VOIP & COMMUNICATION SYSTEMS
Microsoft Exchange (Hosted) or Office 365 (Cloud)
No matter what are your preferences, we can assist your company with complete setup and adaptation of latest email technologies from Microsoft. If necessary, we can also complete migrations from other cloud services or on-premise solutions.
Microsoft's technologies are widely used in corporate environments for communication and collaboration, but with Office 365 they are bringing all features and applications to the cloud, which makes them accessible anywhere you go. Hybrid solutions are also available.
Need Office 365 or Exchange Server? Contact Us Now!
G Suite (Cloud) - Google Apps for Work
Prefer Gmail than Google as your mailbox and online collaboration tool? G Suite is a prefect choice if you prefer using cloud to always stay online and reduce need for costly hardware equipment, but still use enterprise hardware and security. Google Apps are also widely integrated with other cloud apps for better productivity online.
Manage mobile devices, email addresses, security settings and more from the Google Admin console. Keep all your company data safe, centralized and protected from disruptions such as missing hardware or employee turnover.
Your business, your rules.
Interested in G Suite? First Month is Free!
VoIP Telephony PBX System (powered by 3CX)
Does your company spend too much money on calls? Want extensions for your employees with a reporting system and the possibility to record calls?
Then your best way out is to get a VoIP (Voice Over IP) Phone System from 3CX, which is a professional, but also very user friendly system. Its runs on Windows or Linux and offers a complete unified communications features, out of the box, with the minimal overhead costs.
Our team can help you with installation, configuration and maintenance of such system. As well as, purchasing
your digital numbers
and getting the right
telephony connectivity provider
for your needs.
Contact Us Now to Get Your FREE Licence for 8 Simultaneous Calls
Soft-Phones for Desktop and Mobile!
Save money on expensive hardware, if you employees don't need a dedicated physical phone, a headset and any computer will do. Fully featured desktop and mobile soft-phone is available for your use, making the startup costs lower than ever before.
Take your extension and company landline number with you, everywhere you go, of course provided your device has internet access. Slash your company's mobile costs, increase employee productivity and mobility at no additional cost.
Contact Us Now to Get Your FREE Licence for 8 Simultaneous Calls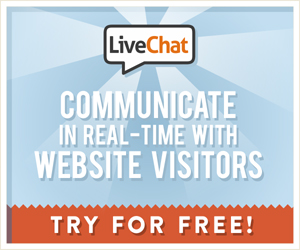 Live Chat for Your Website?
LiveChat is an online chat solution that helps you connect with your customers on your website. When using LiveChat, you can see in real time the way visitors behave and approach them on each step of the buying process. This allows you to easily provide instant help and, in result, increase your conversion rates.
LiveChat comes with a ticketing system built into the applications. The ticketing system allows you to receive customer queries when you are offline. By creating tickets from your chats, you can stay in touch with customers and deal with any incoming problems.
Sign up now for a free 30-day trial.
Physical VoIP Phones for Your Desk
Prefer physical phone to software? No problem, our team will order and install any VoIP phones for you, providing they are compatible with your PBX Phone System.
Please note that this option is more expensive, rather than opting out for soft-phones, so consider a combined solution depending on employees rank or their key function. For example, your secretary definitely will benefit from one, but your accounting department may not need it at all.
Contact Us Now to Place Your Order
Open Source? We Install Asterisk and FreePBX too!
Licencing costs scare you off? Or do you prefer to have a solution which you can custom modify in the future? Maybe you are just a fan of open source software?
Regardless of your reasoning, you can rely on our team's expertise to consult you about, and install Asterisk or FreePBX systems. However, we would like to warn anyone who is not familiar with nature of open source software that bug fixes can take a long time to come and setting the system up with all the additional components can be costly and consuming.
Give us a Call to Find More Info